Project Events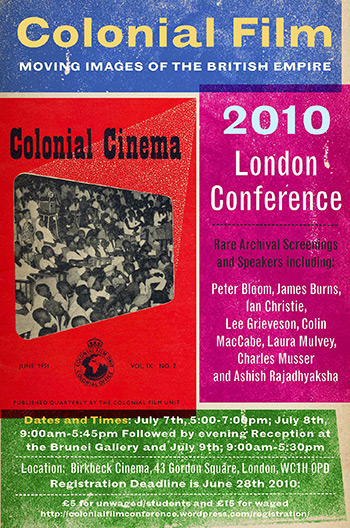 Since it began on 1 October 2007, the Colonial Film project has staged a series of events intended to enhance our understanding of the colonial film collections. These have included a seminar series, a summer school for post-graduate students, film seasons, and two major international conferences.
SEMINAR SERIES
The seminar series invited scholars and filmmakers to view and discuss a selection of films from the collection. The seminars were staged at the BFI, Imperial War Museum, and Birkbeck College.
April 2008 – Roundtable discussion on films of the Malayan Emergency.
June 2008 – The West Indian holdings, led by Stuart Hall (Open University)
July 2008 – India, led by Priya Jaikumar (University of Southern California)
August 2008 – The 1920s, led by Laura Mulvey (Birkbeck).
September 2008 – Early Images of Empire, led by Tom Gunning (University of Chicago)
October 2008 – Film and Empire, led by Stephen Frears.
November 2008 – The Empire at War, led by Paul Gilroy (LSE)
March 2009 – The Gold Coast, led by Pat Manning (University of Pittsburgh)
July 2009 – Two day summer school for post-graduate students
November 2009 – Ceylon, led by David Trotter (Cambridge)
December 2009 – Roundtable discussion with colonial historians based at the University of London
CONFERENCES
In the summer of 2010, the project organised two major international conferences. The first was held in London from 7-9 July 2010. It focussed on 'Film and Empire' prior to the Second World War. A full pdf of the conference programme is available here.
The second conference was staged in Pittsburgh from 24-26 September 2010, and primarily examined cinema in the latter years of the Empire. A full pdf of the Pittsburgh programme is available here.
FILM SEASONS
The project helped organise a film season at the Imperial War Museum (July 2010) and a collection within BFI Mediatheque (October 2010). The Mediatheque collection, 'Cape to Cairo', incorporates materials from the BFI's African holdings.
In November 2011 there will be a 'Colonial Film' season at the NFT, showing fiction films made in the last years of the British Empire.
ART INSTALLATION
Artist Filipa Cesar will hold an installation at the Showroom gallery in London in November 2011 that deals with colonial film and the colonial archive. Cesar's film, Black Balance, is accessible on the Work in Progress page of this website.
BOOKS AND DVDS
Although the project officially ended on 30 September 2010, further projects are ongoing. Two collections of essays, tentatively titled Film and Empire and Film and the End of Empire, edited by Lee Grieveson and Colin MacCabe, will be published by BFI publishing in November 2011.
The project is also collaborating with the BFI on a DVD release.